B.F.A. CLASS OF 2018 CULMINATING EVENTS
| | | | | | | | | | | | | | | |
| --- | --- | --- | --- | --- | --- | --- | --- | --- | --- | --- | --- | --- | --- | --- |
| | | | | | | | | | | | | | | |
| | National Art Honor Society Inductions | | | National Technical Honor Society | | | | Senior Enrichment Yearbooks/Cap/Gowns) | | Senior Class Family Brunch | | Senior Potluck/Project Graduation | | |
| | | | | | | | | | | | | | | |
| | Performing Arts Center (PAC) | | | | | | | | | | Collins Perley Sports Center | Collins Perley Sports Center | Collins Perley Sports Center | Collins Perley Sports Center |
Event Overviews
Senior Class Family Brunch:RESERVATIONSMUST BE MADE NO LATER THAN MAY 31st by calling 527-6400. If you leave a message include the name of your student and the number attending, including your student. Reservations allow us time to order enough food. Seniors and their families are invited to brunch to celebrate their successes. All immediate family members are invited as well as grandparents. A few scholarships are awarded as well. Faculty and staff proudly volunteer for food preparation and serving.NO CHARGE FOR THIS EVENT!
Senior Sports Banquet: The Athletic Department invites athletes and their families to a dinner where awards and scholarships will be presented, all of which celebrate their athletic prowess. A letter from the Athletic Director will be forthcoming for this event.
Cap and Gowns: The cost for the cap and gown is $22.00 and must be made for at pick-up. Make checks payable to Balfour. (No one has prepaid for their cap and gown.) Cap and gowns picked up after June 7th will cost $25.00. Also, no caps and gowns will be disbursed if a student has a library book they haven't returned or paid replacement costs on. Please call 527-6461 to see if your senior owes money.
Class Night: This is an evening where Department Chairs present seniors with their Department Award and all scholarships/awards will be presented at this event. This is an event that all family members should plan to attend with their senior. There will be a slide show presentation of all seniors who submitted yearbook pictures and pictures when they were little. No charge!
Senior Potluck/Project Graduation: Seniors can take part in fun activities in a substance-free environment. Games, contests, music and food are available-all free. The Senior Potluck is for students and their immediate family. The Project Graduation event is a student's only event with chaperones present.
Graduation Rehearsal: All seniors are required to attend. You may not be allowed to walk at graduation if you are not at rehearsal which starts promptly at 9 a.m. Students are expected to be there and in their assigned seats. You will find your name on the back of the chair. (You do not need your cap/gown for rehearsal.) Rehearsal usually takes approximately two hours. TICKETS will be handed out during this rehearsal. Each senior will receive four tickets for the reserved section per family. Additional seating is available in the unreserved section to accommodate extended family. There is no cost for the tickets. Please do not call for more tickets.
Special Notes/Highlights
Attire/Clothing for all Events - Casual/dress-up. Caps and gowns are used ONLY at Graduation.
Graduation - Seniors are to arrive by 9:45 a.m. and are to go directly to their assigned area per instructions at rehearsal in the hockey rink. We ask that seniors go inside the rink to avoid congestion in the main lobby.
Parking - Traffic in and around Collins-Perley Sports Complex is congested. Plan to arrive early. Please note that all but early arriving cars may be blocked in until after graduation. Car pooling is encouraged.
Photography – Ushers will arrange for parents to take pictures in front of the stage. We ask everyone's cooperation in not crowding the graduates as they are getting on and off the stage.
Prom Tickets – These will go on sale a couple weeks prior to the prom. They will be for sale in the Principal's Office at BFA North. They will be sold during lunch periods, advisory, and enrichment or before school.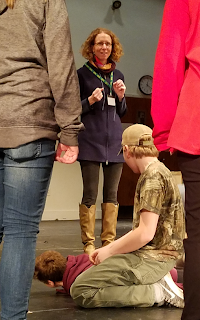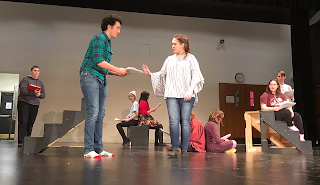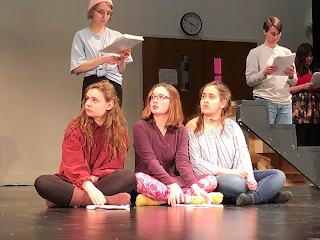 Susan Palmer leading a small improv session CJ Brown and Lianna Roque as Man and Albienne Rosie Newton, Adsel Sparrow, and Lianna Roque preparing during the 8th Grade Open House for the One Act Play.
What's Happening in Drama!?
The BFA Theatre Department is excited to announce some of its new upcoming projects! We are currently rehearsing our play for the Regional One Act Festival, where we will be competing against other schools for a chance to move on to the States Festival. As it is a children's play we are offering a matinee performance for grades 3/4 on March 21st. The community performance of our One Act will be on March 14th at 7pm, both in the Performing Arts Center. We have also started up a Theatre for Change group, in which students perform pieces that give them the chance to speak up about issues they find important. Next week we will welcome a professional playwright who will work with students to develop a 10 minute play for the Vermont Young Playwrights Festival. All plays will be shared at an evening of readings on April 14th a 7pm, in our Performing Arts Center. Our improv team will have its second performance at The Grind in St. Albans on February 15th a 6pm. Students on the team are also offering workshops to the middle schools in order to get incoming freshman interested in theatre! Students in the acting class will be taking trips to the Flynn, including next Thursday when they will attend a Vermont Stage Production of Doublewide. This spring over 100 students will travel to the Flynn Theatre to see Othello on the Main Stage. These trips are generously supported by the Flynn. Finally, the officers of this years Thespian Society Troupe are hard at work promoting the arts around the school and have even developed a blog. Feel free to check it out at: https://epshannon.wixsite.com/bfaoneact2018
As you can see, there is a lot happening in the theatre program at BFA right now!
We hope you can come out and support us at the One Act on March 14th at 7PM in the PAC!
Who are we?
Get to know a few of our students by reading the bios below! In November, the St. Albans Messenger highlighted Susan Palmer, BFA's new Drama program director. Read all about Susan's plan to integrate drama into the classroom and community here.
Drew Pettengill; Class of 2019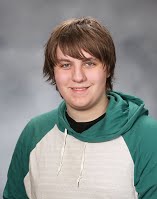 Drew Pettengill is a senior and veteran actor with the Bellows Free Academy theater "troop". I started my career at the end of freshman year with the Junior Jamboree performance. Since then I participated in all shows in some way whether it be as tech or an actor. I am currently a co-captain of the newly formed BFA "Varsity improv" team. I hope that the BFA drama club/team will get more kids to join in the future, and that the improve team has more performances in the near future.
Jared Sparr; Class of 2019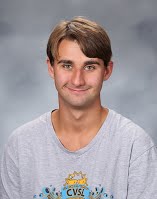 My name is Jared Sparr and I am a senior. I have done One Acts and Junior Jam every year since my Sophomore year. This year, I am also part of the new Improv team at our school. I have always had a knack for public speaking, and a desire to create stories for others to enjoy. Theatre is a way for me to be involved in storytelling, and involves a type of public speaking as well, as you are performing sometimes in front of large audiences. I have no singing talent, but I love to act and become different characters, as its almost like an adult version of make believe, and it's fun to try out a completely different mindset at times. For this reason, I'm glad our school offers opportunities for theatre outside of the fall musical. Junior Jam has always been my favorite, because it is up to you and a group of students to pull a play together, and you have complete creative control over how the show goes. I'm glad that this year Susan Palmer brought the idea of starting up the improv team, as it's a completely different experience than anything else I've tried before, and it really takes you out of your comfort zone.
Rosie Bibona; Class of 2019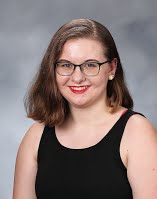 My name is Rosalie Bibona, and I am a senior at BFA! I've been with the drama department since I was a freshman, and it's been a wonderful experience. I started off as a props manager and ensemble actor in my first year, and ended up directing our class' Junior Jam show. Sophomore year put me in the position of assistant stage manager for our musical and stage manager during One Acts. For the past two years, I've been the stage manager for the department's other shows, but I have passed that role on to my successor, in light of my upcoming graduation. I am currently president of our Thespian Society troupe, and along with the other officers, I help promote our program and bring in new members. In the future, I hope you become a drama teacher or musical director, using the skills I have been taught over the years.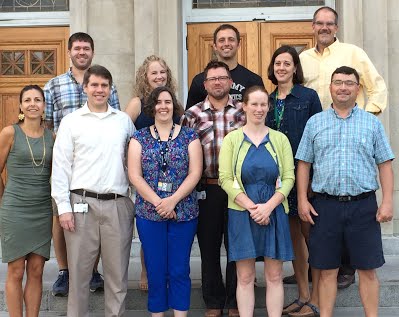 Science Department from left to right (front row): Alexis Kamitses, Glenn McCabe, Emily Eldred, Dan Plimpton, Molly Magnan, Jeff Rouleau (2nd row): Tom Koldys, Kristin Corrigan, Chris Hungerford, Michelle Stinnett, Tim Fugere
Science Department's Star Students
The faculty of the BFA-St. Albans Science Department would like to announce some of its star students from 1st semester. Students were selected based on their ability to ask questions, on their inquisitiveness and curiosity, and their ability to problem solve. These students display a desire to learn, to participate, to persevere, and as a result produce above and beyond what is required of them.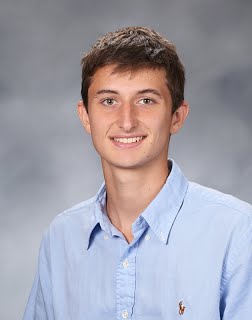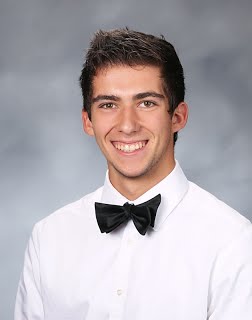 Physical Science (left to right): Mac Kennedy, Tyler Sears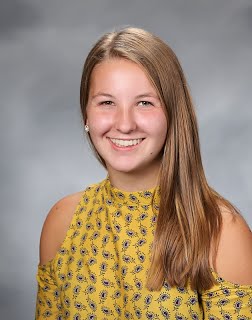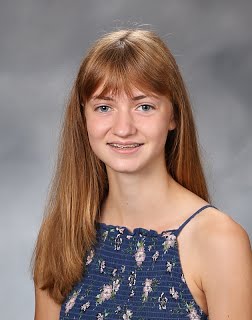 Life Science (left to right): Emma Bapp, Emma Menard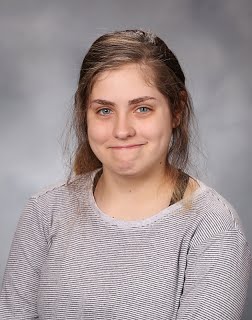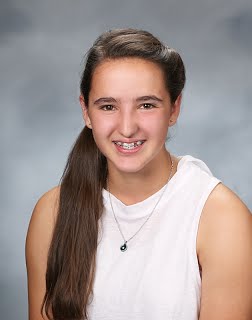 Earth Science (left to right): Kelly Emerson, Casey Bechard
Check out what's happening in Earth Science:
Students in Dan Plimpton's Earth Science classes at BFA St. Albans have started 2nd semester exploring the properties of water. The investigation will take place over a 3 week period of time in which planning, experimenting, discussion and analysis, research, and conclusions will all take place.
In groups, students were assigned a specific water property and were asked to research and design an experiment that determines how their property can cause changes at the surface of the Earth. The classroom was far from quiet, and every student was on task and engaged in learning about their assigned water property.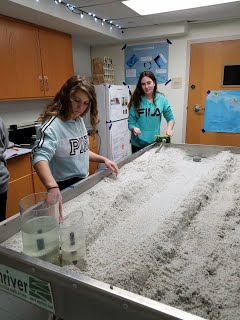 Mya Balanger and Chiara Skeelz are two students in a section of the Earth Science class. Their purpose was to determine how adhesion affects erosion. A large stream table was set up in the classroom that was enabling the students to set up different river pathways. This group was choosing to alter the path that the water was allowed to travel, whether it be straight, curved, or a mixture of both. They described their experiment by saying: "We are studying 3 different types of shapes that rivers can have using the stream table. This will help us determine how the flow of water will affect soil erosion. We are studying adhesion and cohesion so that we can better understand how rivers work and find ways to improve our ecosystems."
Quincy Fournier and Amanda Powers made up another group in the class. This group was studying specific heat capacity of different substances, and were preparing several gallon size buckets of water. Each bucket had a slightly different consistency; some were prepared with distilled water, tap water, and salt water. For their experiment, they were measuring how fast each solution could heat up and then cool down. When asked about the purpose of their experiment, they said "We are comparing how different specific heats affect the heating and cooling of the Earth's surface by comparing 4 different substances that are representative of Earth. This is an important experiment because it can show how our Earth is heating up and how much energy the Earth is taking in.
20 different groups are creating experiments similar to those mentioned above. While the learning target was to develop an investigation that led students through data collection and analysis, the students found ways to tie it into their environment, making the assignment relevant and meaningful.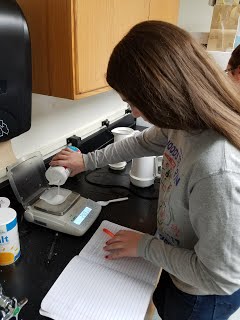 WORLD LANGUAGES DEPARTMENT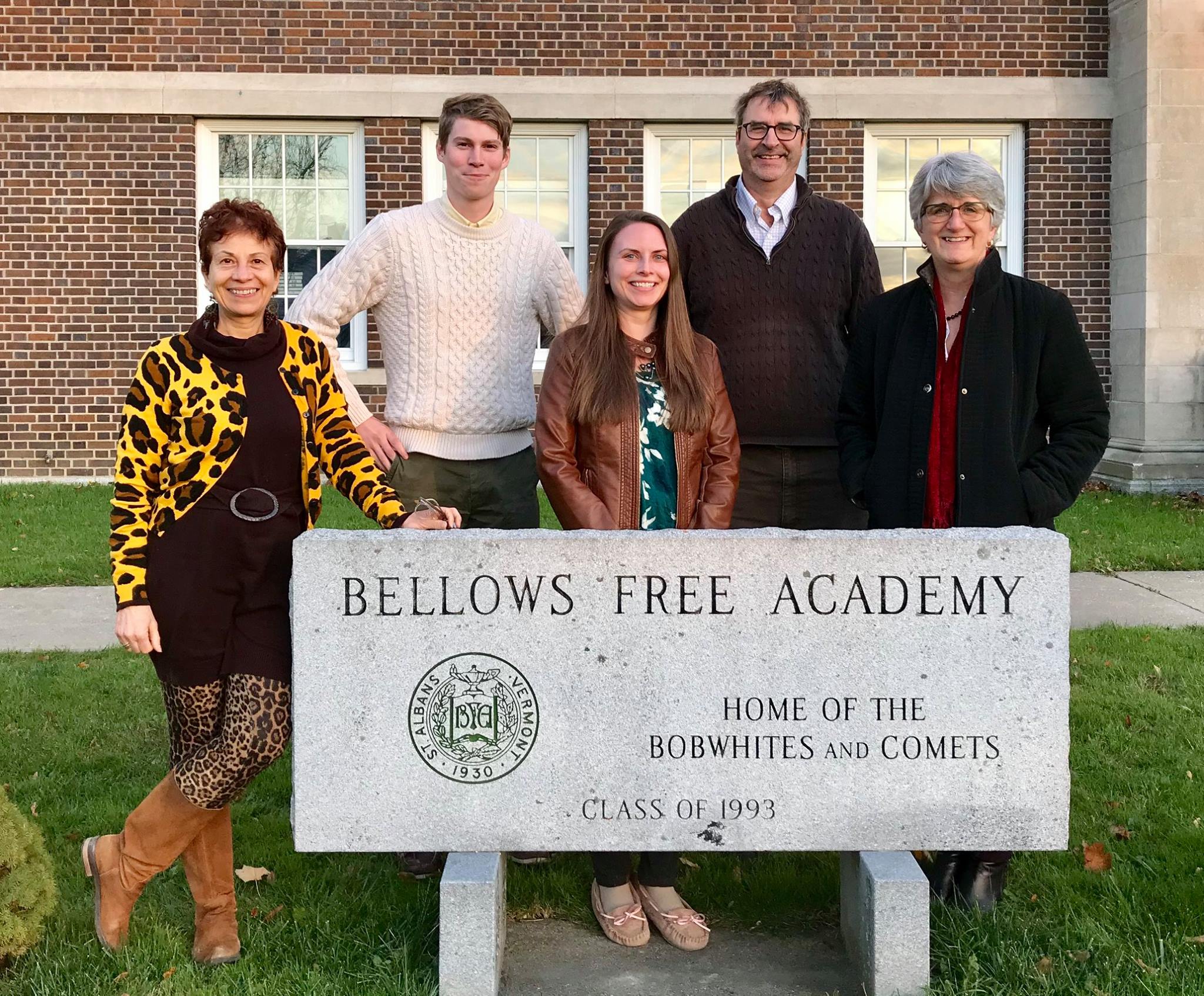 World Language Department from left to right: Olga Saldarriaga, James Thurber, Kristi Leet, Bruce Pollard, Lydia Batten
REGISTRATION IS NOW OPEN for the 2019 Trip to France:
Madame Leet is leading a trip to France during Winter Break (Feb-Mar) 2019, open to all BFA students and parents. The itinerary highlights Paris and Provence, with stops in Avignon, Nîmes, Nice, and even the principality of Monaco. This trip is sure to appeal to those who have an interest in visual arts, European history, architecture, culinary arts, and/or the French language. (The ability to speak French is always beneficial, but is not a requirement.) Registration is open now! If you are interested or have questions, please email or call Kristi Leet: kleet@maplerun.org(802) 527-6560

Looking Back: BFA Latin Trip 2017:
In April 2017, students and parents from the BFA community traveled with Lydia Batten and Dee Christie to Italy for a 9 day trip, sponsored by the tour company, explorica. Once we landed in Rome and met our tour director, we immediately embarked on a whirlwind adventure which included full tour of Rome and its many signature landmarks, then the Vatican Museum and Saint Peter's Basilica. Then the group headed south to the Bay of Naples and while in that area, toured Pompeii, the city Naples, Sorrento, and the island of Capri. From Naples, the group boarded an overnight ferry bound for Sicily, which docked in Palermo,and so began our adventures in Sicily! After a tour of Palermo and some iconic multi-cultural landmarks and churches, the group then experienced the Valley of the Temples (some of the best preserved Greek temples in western Europe), the Turkish Steps, and then off to the northern hillside town of Taormina, and a hike to one of the lower summits of Mount Aetna! Our last day of the tour included a boat excursion to visit 3 of the Eolian Islands (located between Sicily and Italy, and named for the famed King Aeolus who gave the winds to Odysseus to bring him home)! Truly a splendid itinerary with so many fascinating sites and opportunities, especially to taste as many flavors of gelato as possible!

What's happening in our classes?
In November 2017, the Spanish IV and V class learned about the Mexican holiday Día de los Muertos through creating a class altar with authentic elements.
French IV Fondue Party!
French students visiting Montreal in 2016