Read up on new information for the upcoming 2023-24 School Year in the News Feed, Parent Links page, or our Social Media! Welcome back soon!

Free and Reduced Lunch Applications Please apply if you have not had an opportunity to. Information on the application process is in our Daily Announcements. Many grants and other funding sources are connected to the percentage of eligible students. P-EBT Benefits are directly connected to the application eligibility of students.

Winter Break Reminder that Winter Break is from Friday, December 23rd through Monday, January 2nd. Students will return for class on Tuesday, January 3rd.

Operation Happiness Food Drive Every holiday season, SATEC families give back to the community in various ways. This year, we will once again be hosting a food drive to support Operation Happiness. If you can spare any non-perishable food items, please send them in with your child. There will be a designated area in each grade to leave items.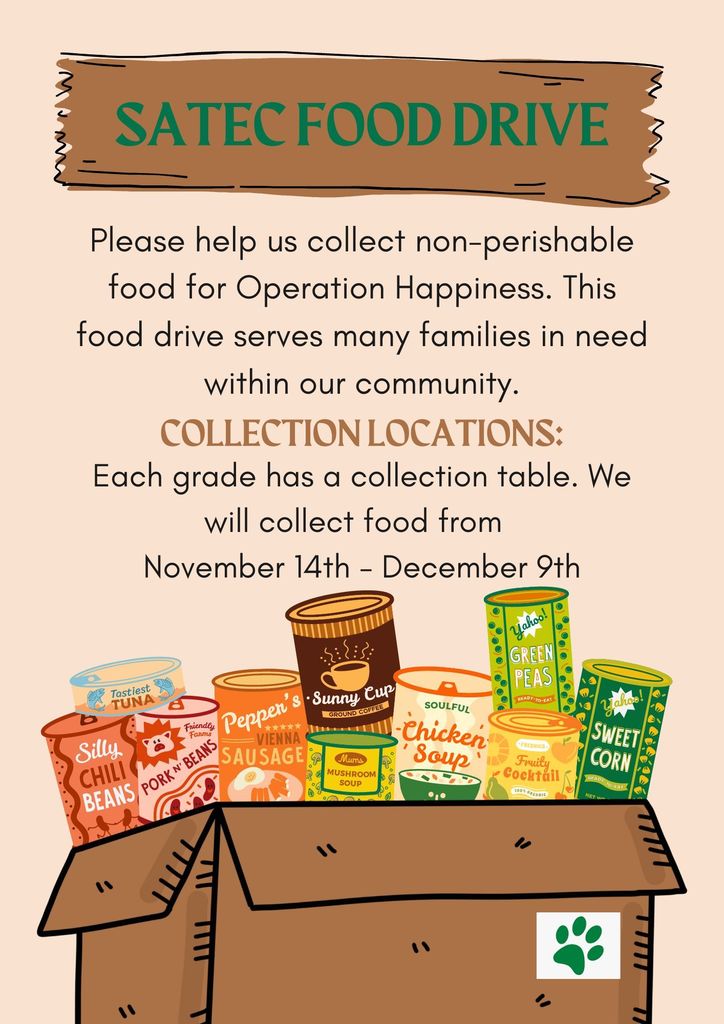 Welcome to Season 4 of the Wildcat News! This episode features highlights from STARBASE, a story about the SATEC Garden, a 6th grade fundraiser, and a reminder about how to use our cafeteria.
https://youtu.be/IREFp8b-lbE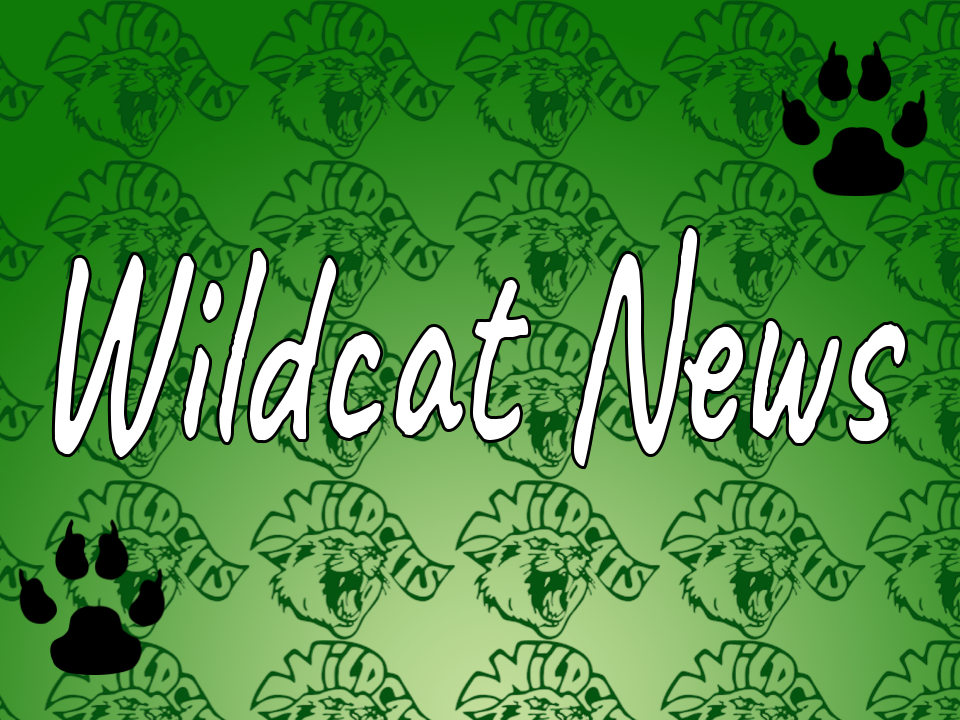 5-8 Basketball Sign Ups Sign Ups to be a part of our 2022-2023 Grades 5-8 Basketball program here at SATEC are open. The registration link for FamilyID can be found on our Athletics page or in the Daily Announcements. Please sign up by 11/11. The number of teams and the configurations for the teams will depend on our enrollment numbers. Practices Begin the Week of 11/28.

Daily Announcements have moved to a new platform. Visit our new S'more newsletters by clicking on the Daily Announcements button and follow us to be added to the email list.

Sept. 21st - Network Update - The network issue has been resolved as of 12:30pm today. Staff are able to access email again. Thank you for your patience.

Wednesday, Sept. 21st. We are currently experiencing network issues and email is inaccessible. Please contact the offices via phone if you need to reach the school for any reason. We'll post an update when the issue is resolved. 802-524-2600.

The Cross Country Meet at SACS (Scheduled for Tomorrow, Tuesday, Sept. 13th) has been postponed and will now be held on Tuesday, Sept. 20th at SACS.

SATEC 5th-8th Grade Fall Sports Registration is open and can be found on our Athletics webpage in the For Parents section.

Reminder for Student Spectators: Student Spectators must be accompanied by an adult if they are attending Volleyball matches. We ask that they stay in the gym with the adult that brought them to watch the match. Thank you.

https://youtu.be/OoSbg5C8aoI
Wildcat News: Episode 7 - This episode of Wildcat News features stories about book talks, a pie-throwing celebration, a science lab involving trout, and a look at some of the Spirit Week flags created for the Wildcat Olympics.

Due to our school closing, we have been stuck in a "Time Warp"! Upon returning from February Vacation, Friday March 4th will be SATEC Time Warp Day! All Spirit Week Themes, Activities, Challenges, and Games will be ON!!! We have been trapped in the Wildcat Olympic Spirit😳😱 Please Come ready with that Wildcat Spirit on Friday! Dress in your Green and White Best. GO WILDCATS!

Enjoy February Break. Reminder No School February 21-28-Winter Break No School March 1st-Town Meeting Day

SATEC Sock drive starts next week 2/14/22 - bring in a new pair of kid or adult socks and Mrs. Ward will collect them from communities daily next week 2/14 - 2/18

Wildcat News Episode 6: This episode features Greek Mythology in 4th grade, the 6th grade ski trips, French food in French class, and a look at a "magical" after school program.
https://www.youtube.com/watch?v=IqfV3YsrJk4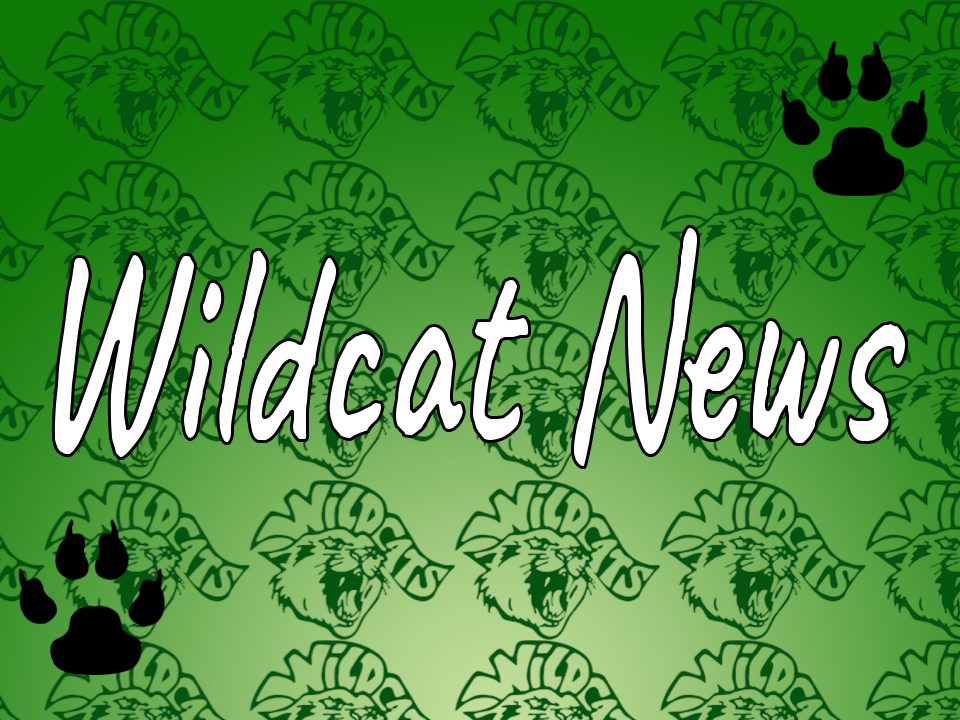 All MRUSD afterschool activities, including sports games and practices are cancelled today, February 3, 2022 due to the expected icy road conditions.Thank you.

Wildcat News: Episode 5 Today's episode features a story about the solar system, The Hour of Code, a look at the SATEC band and orchestra, and the final lunch menu for the year.
https://youtu.be/ym_m-g93N4U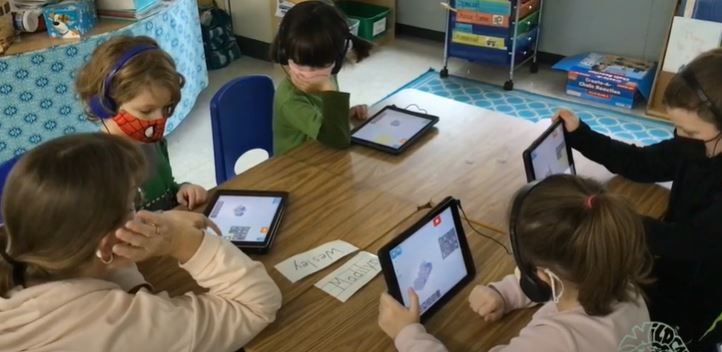 The 5/6 Girls and Boys Green Basketball Games scheduled for Saturday, Dec. 18th have been cancelled. We will work with Fairfield to reschedule these games.