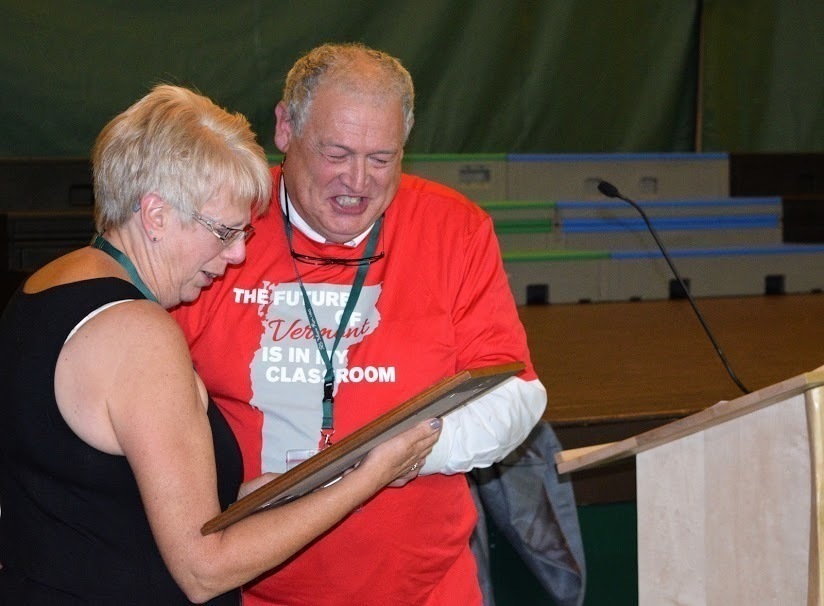 Lorna Jerome receives Superintendent's award
Brenda Comstock
Monday, September 03, 2018
At the August Maple Run Unified School District convocation Lorna Jerome, Administrative Assistant/Registrar at St. Albans Town Education Center, was named for the Superintendent's Leadership award for 2018. Nominations for the Award is open to any non-administrative employee of the Maple Run Unified School District who displays exceptional performance in their action and behavior to continue the SU's tradition of excellence in support of our member schools' missions.
Consideration is given to nominees who meet one or more of the following criteria:

Displays exceptional performance in their action and behavior above and beyond their required duties
Takes extraordinary steps to achieve results that enhance instruction and operation of the district
Generously and positively impacts the school and community through selfless acts
Displays exceptional dedication, leadership, initiative and respect to carry out the mission of MRUSD
Demonstrates a high quality of work performance including creativity and initiative
Exhibits a positive attitude towards fellow employees, students, the public and work demonstrated by availability, cooperation, courtesy, friendliness, helpfulness, and presence on the job.
Only one person is chosen from roughly 600 staff annually to receive the award. This year, to a standing ovation, Ms. Jerome was given the title. It was a well-deserved honor as sited in the letter entering her name was read to those present. In part it stated: To say that Lorna is the heart and soul of our school would be an understatement. Lorna is the first face and voice to greet our new students and their families. After her first meeting she will know their names and the names of their siblings. Families instantly feel connected to SATEC at a personal level because of the way they are greeted by Lorna on each and every visit to our school. Families will often share sensitive information with Lorna that they are uncomfortable sharing with a teacher but know will be important for the school to know. For all things families need Lorna is most frequently their go to person.